IMPROVING STUDENTS' SPEAKING SKILL BY USING STORYTELLING TECHNIQUE AT THE ELEVENTH GRADE STUDENT OF SMA TUT WURI HANDAYANI MAKASSAR
Yahuda Lohing

Penddikan Bahasa Inggris, FKIP Universitas Megarezky, Makassar, Indonesia

Muliaty Ibrahim

Penddikan Bahasa Inggris, FKIP Universitas Megarezky, Makassar, Indonesia

Sujarwo

Penddikan Bahasa Inggris, FKIP Universitas Megarezky, Makassar, Indonesia
Keywords:
Speaking skills, Storytelling, Classroom Action Research
Abstract
The aim of this study was to improving the students' speaking skills by using storytelling technique at the eleventh grade student of SMA Tut Wuri Handayani Makassar that consist of 2 students. This research was classroom action research which was implemented in two cycle such as cycle 1 and cycle 2. On each cycle, there were four meetings consist of planning, action, observation and reflecting. The collecting data method used quantitative and qualitative data. Quantitative is the main data while qualitative is supporting data. Quantitative data consisted of speaking tests while qualitative data consisted of observation checklist, interviews, field notes, and documentation. The result showed that the using of storytelling technique can improve the students' speaking skill. This could be proven through the average score of students in class XI. In cycle 1 was 72,76% while in cycle 2 was 82,36%. The result of percentage of completeness criteria also increased. In cycle 1, there were 14 students (56%)while in cycle 2 there were 25 students (100%). It showed that the use of storytelling technique could improve the students' speaking skills.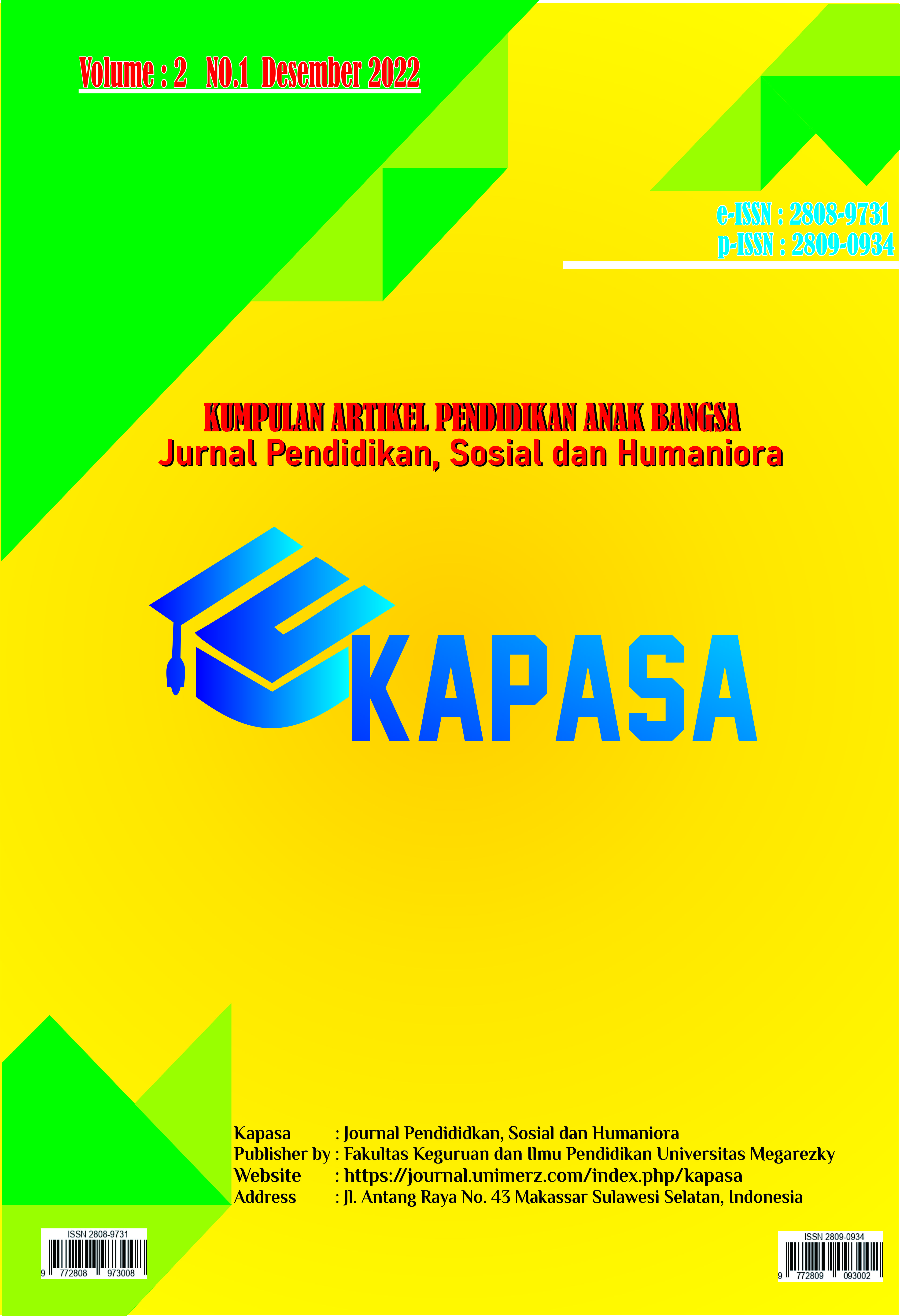 How to Cite
Yahuda Lohing, Muliaty Ibrahim, & Sujarwo. (2022). IMPROVING STUDENTS' SPEAKING SKILL BY USING STORYTELLING TECHNIQUE AT THE ELEVENTH GRADE STUDENT OF SMA TUT WURI HANDAYANI MAKASSAR. Kumpulan Artikel Pendidikan Anak Bangsa (Kapasa) : Jurnal Pendidikan, Sosial Dan Humaniora, 2(1), 58-64. https://doi.org/10.37289/kapasa.v2i1.117
Copyright (c) 2022 Yahuda Lohing, Muliaty Ibrahim, Sujarwo
This work is licensed under a Creative Commons Attribution-ShareAlike 4.0 International License.