ANALISIS SENTIMEN PEMBELAJARAN ONLINE DI SMA NEGERI 12 MAKASSAR (Studi Mata Pelajaran Sosiologi Kelas XI IPS 3)
Sulbi Ataula

Universitas Megarezky, Makassar, Indonesia

Jalal

Universitas Megarezky, Makassar, Indonesia

Sriwahyuni

Universitas Megarezky, Makassar, Indonesia
Keywords:
Pembelajaran online, Kelas 2 SMA, Mata Pelajaran Sosiologi
Abstract
Penelitian ini bertujuan untuk mengetahui sentimen pembelajaran online bagi peserta didik di SMA Negeri 12 Makassar, dan untuk mengkoparasikan antara metode pembelajaran tatap muka di SMA Negeri 12 Makassar. Penelitian ini menggunakan penelitian Kualitatif Deskriptif dengan informan, siswa Kelas 2, Guru sosiologi, dan wakil kepala sekolah. Instrumen penelitian adalah peneliti sendiri, dan teknik pengumpulan data yang digunakan yaitu wawancara mendalam, observasi langsung, dan dokumentasi. Data dianalisis dengan cara kualitatif, dan menarik kesimpulan.
                Berdasarkan hasil penelitian menunjukan bahwa, pada satu sisi pembelajaran online tidak merepresentasikan pembelajaran tatap muka karena banyak hal yang tidak tercapai seperti ranah efektif, ranah psikomotorik, dan ranah kognitif. Namun hal yang positif adalah lebih praktis dan santai praktis karena dapat memberikan tugas setiap saat dan pelaporan setiap saat dan pelaporan tugas setiap saat, lebih fleksibel bisa dilakukan kapanpun dan dimanapun, penyampaian infoemasi lebih cepat dan bisa menjangkau banyak peserta didik lewat WA Group, memperoleh pengalaman baru seperti belajar teknologi. Peneliti juga menemukan sentimen dalam pembelajaran online yaitu ada sentimen positif dan sentimen negatif. Ada sentimen dalam proses pembelajaran online di SMA Negeri 12 Makassar diantaranya adalah sentimen positif dan sentimen negatif. Sentimen positif seperti suka dengan pembelajaran online karena dapat memudahkan guru dengan siswa untuk berkomunikasi dan memudahkan siswa untuk mendapatkan informasi dalam menunjang pendidikan. Sedangkan sentimen negatifnya adalah siswa kurang senang karena materi yang kurang dipahami oleh siswa dalam proses pembelajaran di SMA Negeri 12 Makassar.
ABSTRACT
This study aims to find out the sentiment of online learning for students at 12 Senior High Schools of Makassar and to compare face-to-face learning methods at 12 senior High Schools of Makassar. This study uses descriptive qualitative research with informants, grade 2 students, sociology teachers, and vice principals.the research instrument is a reseaercher with data collection tecnicques, namely in-depth interviews, direct observation, and documentation with data analysis using qualitative methods and then concluding.
Based on the results of the study, shows that on the hand, online learning does not represent face-to-fase learning because many things are not achieved, such as the effective domain, the psychomotor domain, and the cognitive domain. However, the posotive thing abaut online learning is thet is more practical and relaxed because it can provide assignments, reporting, and teporting tasks at any time, and is more flexible because it can be done anytime and anywhere. In addition, the delivery of information is also faster and can reach all students through Whatsapp groups and students gain new experiences such as learning technology. Researcher also faund sentiments in online learning, namely positive and negative sentiments. Positive sentiments such as online learning make it easier for teachers and students to communicate and make it easier for students are not happy because the material is difficult to understan in the online learning process.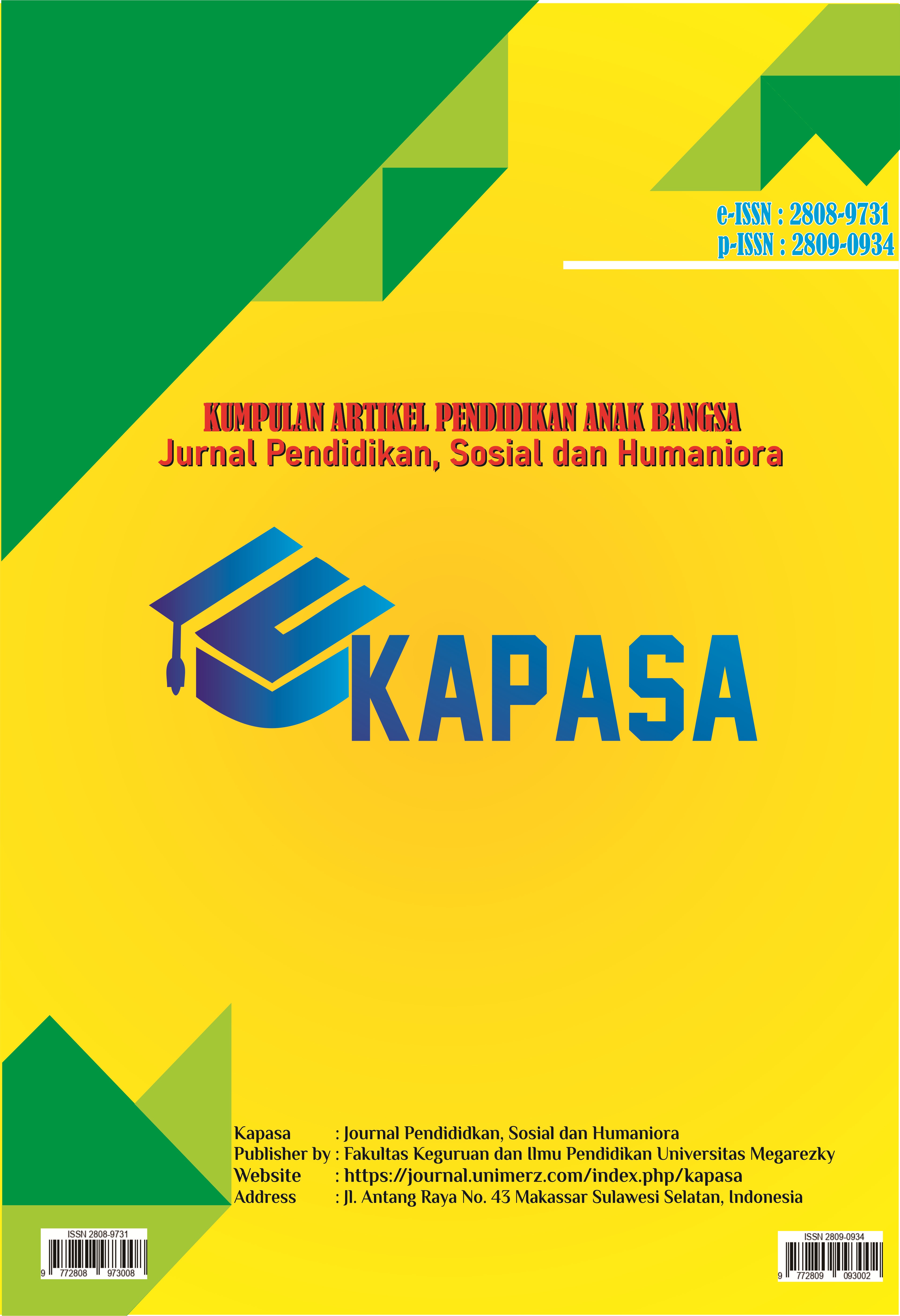 How to Cite
Sulbi Ataula, Jalal, & Sriwahyuni. (2023). ANALISIS SENTIMEN PEMBELAJARAN ONLINE DI SMA NEGERI 12 MAKASSAR (Studi Mata Pelajaran Sosiologi Kelas XI IPS 3). Kumpulan Artikel Pendidikan Anak Bangsa (Kapasa) : Jurnal Pendidikan, Sosial Dan Humaniora, 3(1), 62-74. https://doi.org/10.37289/kapasa.v3i1.311
Copyright (c) 2023 Sulbi Ataula, Jalal, Sriwahyuni
This work is licensed under a Creative Commons Attribution 4.0 International License.