UPAYA MENINGKATKAN HASIL BELAJAR PASSING KAKI BAGIAN DALAM SEPAK BOLA MELALUI PENDEKATAN PERMAINAN BOLBUM PADA SISWA/SISWI KELAS XI SMA NEGERI 2 BONE
Risal Gunawan

Universitas Megarezky

Suhardianto Suhardianto

Universitas Megarezky

Muh Hidayat Cakrawijaya

Universitas Megarezky
Keywords:
Hasil belajar passing, Sepak Bola, Pendekatan permainan bolbum
Abstract
This study aims to improve the learning outcomes of foot passing in soccer through a ball game approach to class XI students of SMA Negeri 2 Bone.This type of research, namely Classroom Action Research (CAR), was carried out in two cycles where each cycle consisted of planning, action, observation, and reflection. The subjects of this research were students of class XI IPA II SMA Negeri 2 Bone totaling 35 students where there were 14 male students and 21 female students. Data collection techniques used are tests, documentation, and observation.The results of the research show that the ball game approach can improve the learning outcomes of playing the part of the foot in soccer for students of class XI IPA II SMA Negeri 2 Bone. This can be seen from the increase in the percentage of student learning outcomes from cycle I to cycle II, with an average value of 76.48% in cycle I and 79.12% in cycle II.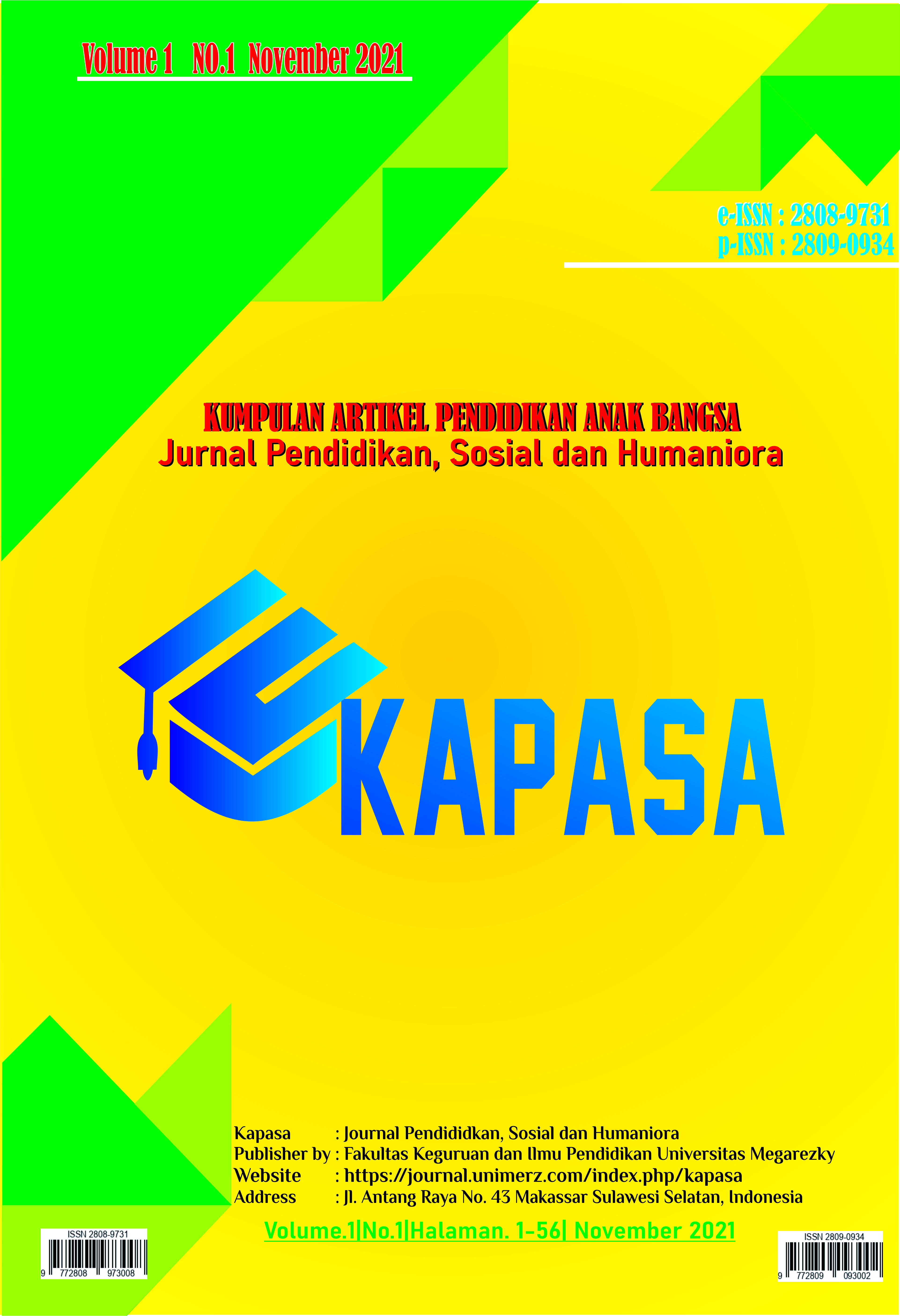 How to Cite
Gunawan, R., Suhardianto, S., & Muh Hidayat Cakrawijaya. (2021). UPAYA MENINGKATKAN HASIL BELAJAR PASSING KAKI BAGIAN DALAM SEPAK BOLA MELALUI PENDEKATAN PERMAINAN BOLBUM PADA SISWA/SISWI KELAS XI SMA NEGERI 2 BONE. Kumpulan Artikel Pendidikan Anak Bangsa (Kapasa) : Jurnal Pendidikan, Sosial Dan Humaniora, 1(1), 1-8. https://doi.org/10.37289/kapasa.v1i1.46
Copyright (c) 2021 Risal Gunawan, Suhardianto, Muh Hidayat Cakrawijaya
This work is licensed under a Creative Commons Attribution 4.0 International License.