PENGARUH METODE SOSIODRAMA TERHADAP KEMAMPUAN BERBICARA PADA DIALOG CERITA ANAK SISWA KELAS V SDN NO. 78 PAO KECAMATAN TAROWANG KABUPATEN JENEPONTO
THE INFLUENCE OF SOCIODRAMA METHOD ON SPEAKING ABILITY IN STORY DIALOGUE OF CHILDREN IN CLASS V SDN NO. 78 PAO, TAOWANG DISTRICT JENEPONTO DISTRICT
Abdul Malik Iskandar

FKIP Universitas Megarezky

Waddi Fatima

FKIP Universitas Megarezky

Alfiani

FKIP Universitas Megarezky
Keywords:
Sosiodrama, Tes Kemampuan Berbicara
Abstract
Penelitian ini bertujuan untuk mengetahui pengaruh metode sosiodrama terhadap kemampuanberbicara pada dialog cerita anak siswa kelas V SDN NO 78 Pao Kecamatan Tarowang Kabupaten Jeneponto. Jenis penelitian ini adalah eksperimen dengan bentuk desain pre exsperimental designs dengan bentuk one group pretest-postest Design. Sampel dalam penelitian iniadalah siswa kelas V SDN NO 78 Pao Kecamatan Tarowang Kabupaten Jeneponto sebanyak 24 siswa dan teknik pengambilan sampel dilakukan teknik sampling jenuh.Instrumen penelitian yang di gunakan yaitu tes kemampuan berbicara, observasi dan dokumentasi. Teknik analisis data yang digunakan adalah analisis statistik deskriptif dan analisis statistik inferensial yang digunakan untuk uji hipotesis.Hasil penelitian menunjukkan bahwa kemampuan guru dalam mengelola pembelajaran berdasarkan hasil analisis data kemampuan berbicara berpengaruh terhadap dialog cerita anak. Berdasarkan hasil analisis data independent sampel test sig (2. Tailed), diperoleh nilai sebesar 0,000 yang lebih kecil dari taraf signifikasi 0,05 yang berarti bahwa ada pengaruh kemampuan berbicara maka Ho di tolak dan H1 diterima, simpulannya yaitu terdapat pengaruh yang signifikan terhadap kemampuan berbicara pada dialog cerita anak Kelas V Khususnya di SDN 78 Pao Kecamatan Tarowang Kabupaten Jeneponto.
This study aims to determine the effect of the sociodrama method on speaking skills in story dialogues for fifth grade students at SDN NO 78 Pao, Tarowang District, Jeneponto Regency. This type of research is an experimental design in the form of pre-experimental designs in the form of one group pretest-posttest design. The sample in this study was the fifth grade students of SDN NO 78 Pao, Tarowang District, Jeneponto Regency as many as 24 students and the sampling technique was saturated sampling technique. The research instrument used was speaking ability test, observation and documentation. The data analysis technique used was descriptive statistical analysis and inferential statistical analysis used to test the hypothesis. The results showed that the teacher's ability to manage learning based on the results of data analysis of speaking skills had an effect on children's story dialogue. Based on the results of the independent data analysis sample test sig (2. Tailed), obtained a value of 0.000 which is smaller than the significance level of 0.05 which means that there is an influence on speaking ability, then Ho is rejected and H1 is accepted. speaking in the dialogues of children's stories for Class V, especially at SDN 78 Pao, Tarowang District, Jeneponto Regency.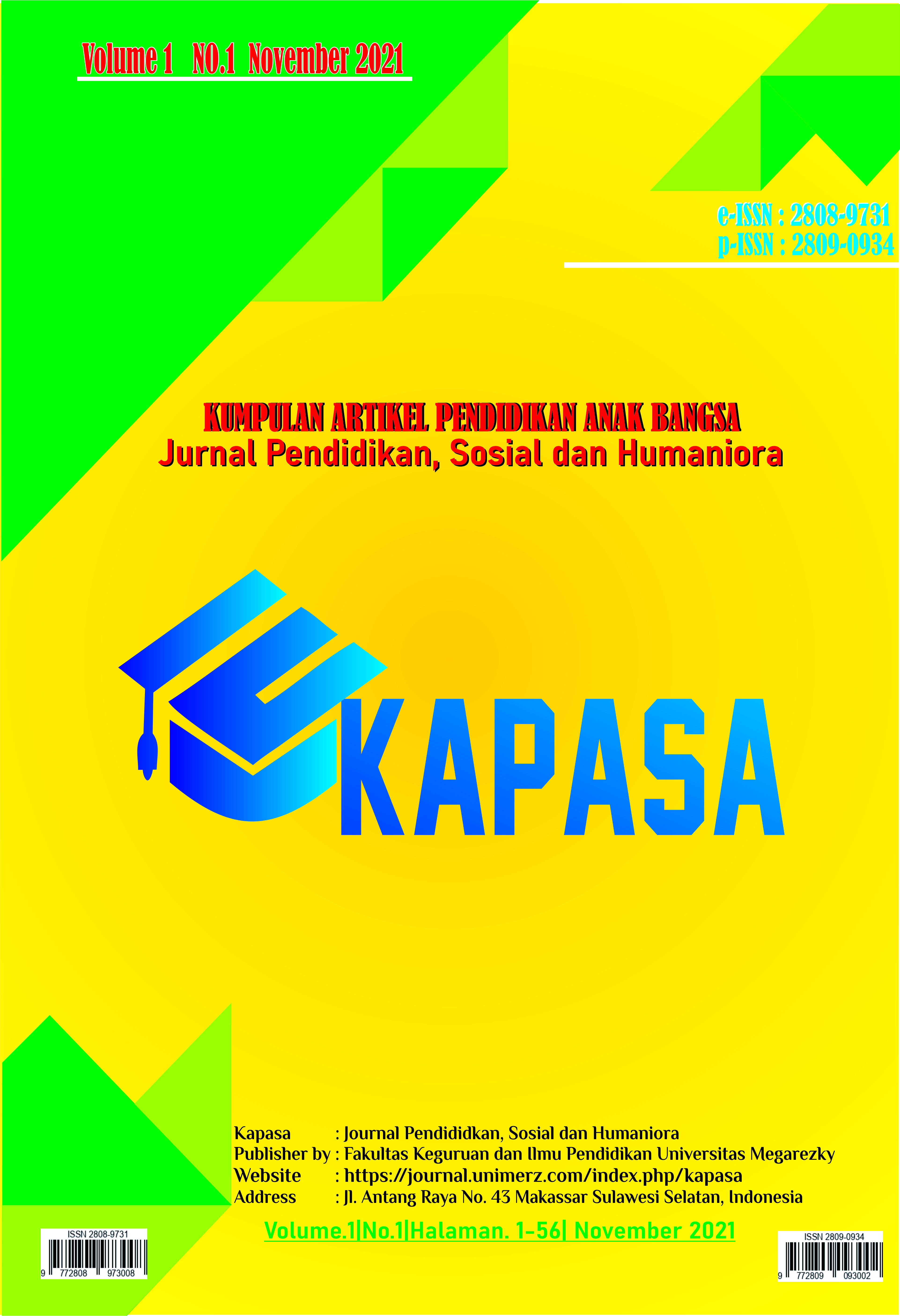 How to Cite
Abdul Malik Iskandar, Waddi Fatima, & Alfiani. (2021). PENGARUH METODE SOSIODRAMA TERHADAP KEMAMPUAN BERBICARA PADA DIALOG CERITA ANAK SISWA KELAS V SDN NO. 78 PAO KECAMATAN TAROWANG KABUPATEN JENEPONTO: THE INFLUENCE OF SOCIODRAMA METHOD ON SPEAKING ABILITY IN STORY DIALOGUE OF CHILDREN IN CLASS V SDN NO. 78 PAO, TAOWANG DISTRICT JENEPONTO DISTRICT. Kumpulan Artikel Pendidikan Anak Bangsa (Kapasa) : Jurnal Pendidikan, Sosial Dan Humaniora, 1(1), 48-56. https://doi.org/10.37289/kapasa.v1i1.65
Copyright (c) 2021 Abdul Malik Iskandar, Waddi Fatima, Alfiani
This work is licensed under a Creative Commons Attribution 4.0 International License.