UPAYA MENINGKATKAN HASIL BELAJAR TEKNIK DASAR PASSING ATAS BOLA VOLI MELALUI PENGUATAN UMPAN BALIK PADA SISWA KELAS VIII MTS NEGERI BARRU
A. Hidayat Parennuang

Prodi Pendidikan jasmani, FKIP, Universitas Megarezky, Makassar, Indonesia

Kurnia Rusli

Prodi Pendidikan jasmani, FKIP, Universitas Megarezky, Makassar, Indonesia

Muhammad Janwar

Prodi Pendidikan jasmani, FKIP, Universitas Megarezky, Makassar, Indonesia

Wahyu Munandar

Prodi Pendidikan jasmani, FKIP, Universitas Megarezky, Makassar, Indonesia
Keywords:
Hasil Belajar Passing Atas; Metode Penguatan Umpan Balik; Permainan Bola Voli
Abstract
Penelitian ini merupakan penelitian tindakan kelas (PTK) yang dilakukan sebanyak 2 kali siklus yaitu; siklus I dan siklus II sebagai siklus lanjutan untuk perbaikan hasil siklus sebelumnya.  Yang menjadi sampel dalam penelitian ini adalah siswa kelas VIII Mts Negeri Barru dengan jumlah 25 orang. Penilaian dalam penelitian ini mencakup 3 ranah antaralain: Kognitif, afektif dan psikomotorik.
                Hasil penelitian pada siklus I menunjukan bahwa siswa kelas VIII  dengan kategori 19 orang tuntas dengan presentase hasil 76%, sedangkan pada siklus II siswa kelas VIII dengan kategori 25 orang tuntas dengan presentase hasil  100%. Oleh sebab itu penelitian dengan menggunakan metode penguatan umpan balik dalam permainan bola voli dapat membantu siswa dalam meningkatkan keterampilan passing atas siswa kelas VIII Mts Negeri Barru.
ABSTRACT
                This research is a class action research (CAR) which was conducted in 2 cycles, namely: cycle I and cycle II as a follow-up cycle to improve the result of the previous cycle. The samples in this study were students of class VIII students of Mts Negeri Barru with a total of 25 people. The asssessment in the study inbcludes 3 domains including: cognitive, affective and psycomotor.
                The results of the research in cycle I showed that class VIII students with 19 categories completed with a percentage of 76%, while in cycle II class VII students with categories  25 people completed with a percetage of 100%. Therefore, research using the method of strengthening feedback in volleyball games can help students improve their passing skills for class VIII students of Mts Negeri Barru.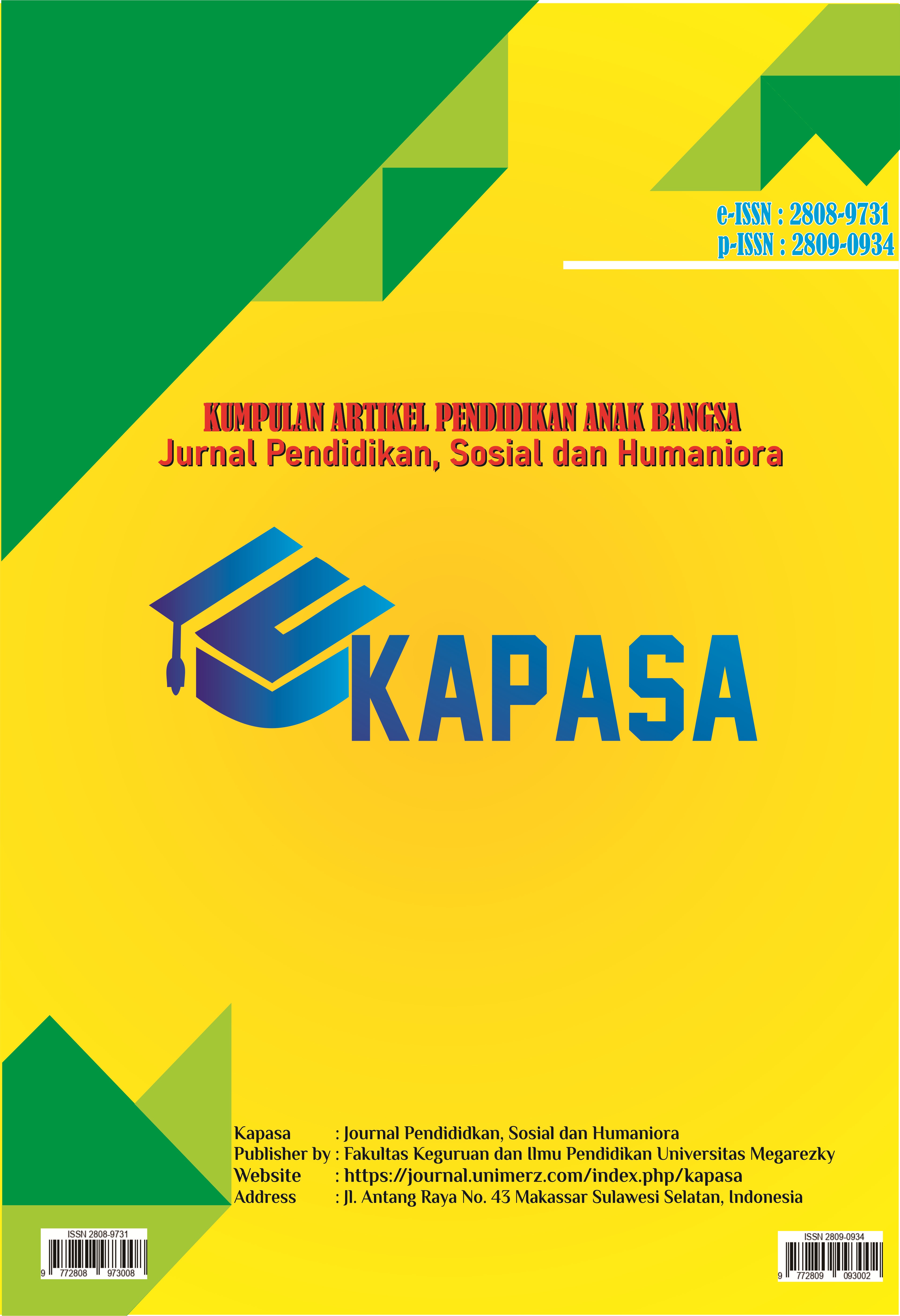 How to Cite
A. Hidayat Parennuang, Kurnia Rusli, Muhammad Janwar, & Wahyu Munandar. (2023). UPAYA MENINGKATKAN HASIL BELAJAR TEKNIK DASAR PASSING ATAS BOLA VOLI MELALUI PENGUATAN UMPAN BALIK PADA SISWA KELAS VIII MTS NEGERI BARRU. Kumpulan Artikel Pendidikan Anak Bangsa (Kapasa) : Jurnal Pendidikan, Sosial Dan Humaniora, 3(2), 152-162. https://doi.org/10.37289/kapasa.v3i2.320
Copyright (c) 2023 A. Hidayat Parennuang, Kurnia Rusli, Muhammad Janwar, Wahyu Munandar
This work is licensed under a Creative Commons Attribution-ShareAlike 4.0 International License.