PEMBERDAYAAN MASYARAKAT DALAM UPAYA MENINGKATKAN POTENSI EKOWISATA PULAU BAIR KOTA TUAL
M. Amin Ainarwowan

Pendidikan Sosiologi, Universitas Megarezky, Makassar, Indonesia

Akhiruddin

Pendidikan Sosiologi, Universitas Megarezky, Makassar, Indonesia

Sriwahyuni

Pendidikan Sosiologi, Universitas Megarezky, Makassar, Indonesia

Muh. Reski Salemuddin

Pendidikan Sosiologi, Universitas Megarezky, Makassar, Indonesia
Keywords:
Pemberdayaan Masyarakat, Ekowisata, Pulau Bair
Abstract
Penelitian ini bertujuan untuk mendeskripsikan strategi pemberdayaan masyarakat dalam upaya menigkatkan potensi ekowisata kawasan Pantai Pulau Bair Kota Tual. Jenis penelitian ini menggunakan penelitian deskripsi kualitatif dengan penentuan informan terdiri dari 7 informan yang dipilih dengan teknik purposive sampling. Teknik pengumpulan data yang digunakan adalah observasi, wawancara, dan dokumentasi. Teknik pengabsahan data menggunakan triangulasi sumber. Hasil penelitian menunjukan bahwa: 1) Strategi pemberdayaan masyarakat tersebut antara lain: a) penyadaran dilakukan melalui sosialisasi dan inovasi oleh pihak Dinas Pariwisata, b) pemberian modal usaha untuk masyarakat di sekitar objek wisata Kota Tual, c) pendampingan dengan mengarahkan masyarakat untuk pembangunan dan pengembangan desa wisata, dan d) pendayaan kelompok sadar wisata maupun kelompok masyarakat dengan berkegiatan ekonomi produktif dalam pengembangan desa wisata di Pulau Bair.
ABSTRACT
This study aims to describe community empowerment strategies in an effort to increase the potential for ecotourism in the Pulau Bair Beach area of Tual City. This type of research uses qualitative description research with the determination of informants consisting of 7 informants selected by purposive sampling technique. Data collection techniques used are observation, interviews, and documentation. The data validation technique uses source triangulation. The results of the study show that: 1) The community empowerment strategy includes: a) awareness is carried out through socialization and innovation by the Tourism Office, b) providing venture capital for the community around the Tual City tourist attraction, c) assistance by directing the community for development and tourism village development, and d) empowering tourism awareness groups and community groups with productive economic activities in the development of tourism villages on Bair Island.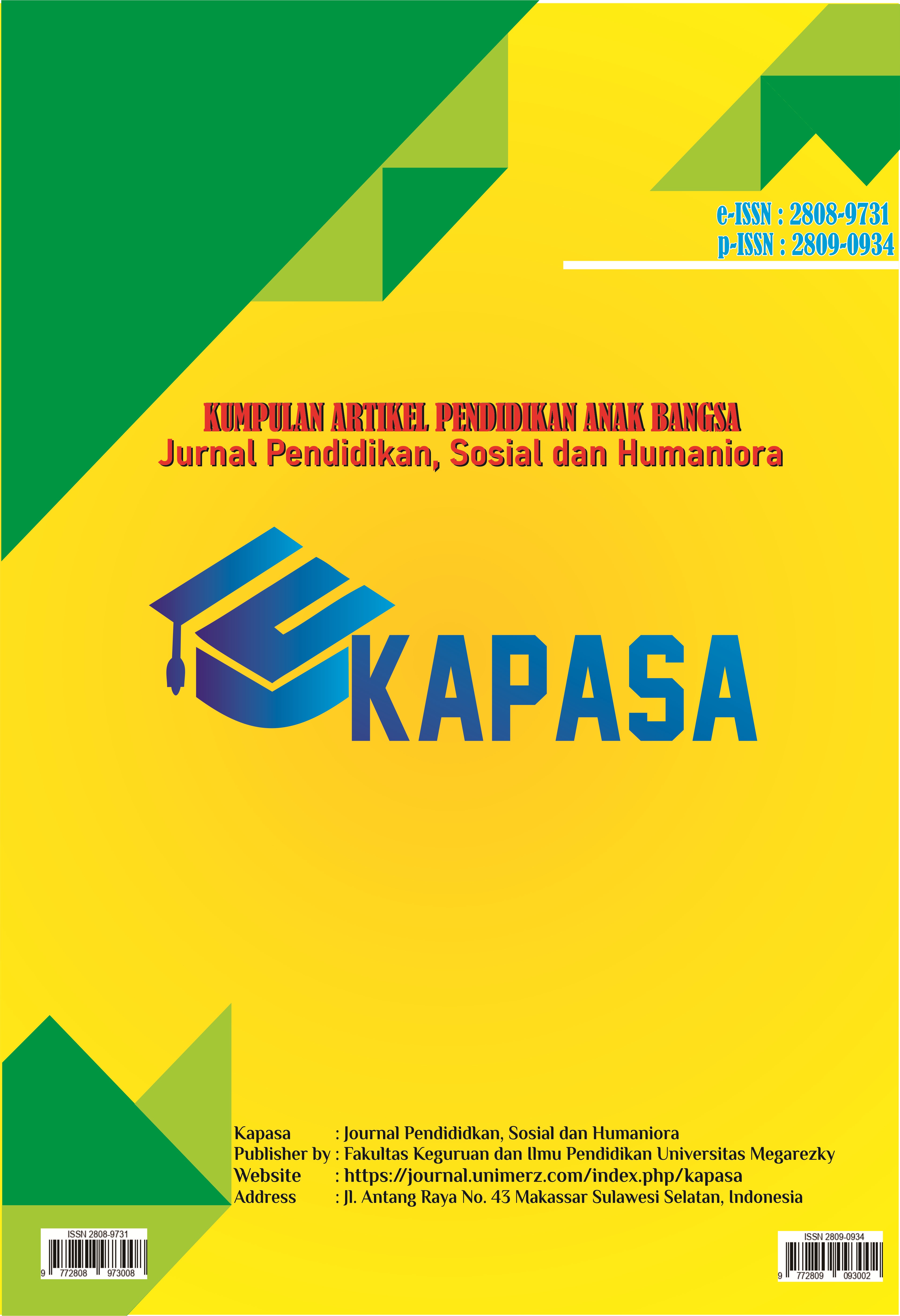 How to Cite
M. Amin Ainarwowan, Akhiruddin, Sriwahyuni, & Muh. Reski Salemuddin. (2023). PEMBERDAYAAN MASYARAKAT DALAM UPAYA MENINGKATKAN POTENSI EKOWISATA PULAU BAIR KOTA TUAL. Kumpulan Artikel Pendidikan Anak Bangsa (Kapasa) : Jurnal Pendidikan, Sosial Dan Humaniora, 3(2), 128-138. https://doi.org/10.37289/kapasa.v3i2.358
Copyright (c) 2023 M. Amin Ainarwowan, Akhiruddin, Sriwahyuni, Muh. Reski Salemuddin
This work is licensed under a Creative Commons Attribution-ShareAlike 4.0 International License.