MENINGKATKAN MOTIVASI BELAJAR IPA MELALUI STRATEGI CROSSWORD PUZZLE PADA SISWA KELAS IV SD NEGERI PANNARA KOTA MAKASSAR
Mutiara Jamal

Universitas Megarezky, Makassar, Indonesia

Cayati

Universitas Megarezky, Makassar, Indonesia

Bellona Mardhatillah Sabillah

Universitas Megarezky,Makassar, Indonesia
Keywords:
Motivasi belajar. Strategi Crossword Puzzle. Mata Pelajaran IPA
Abstract
Penelitian ini bertujuan untuk meningkatkan motivasi belajar siswa menggunakan Strategi Crossword Puzzle pada mata pelajaran IPA pada siswa kelas IV SD Negeri Pannara. Jenis Penelitian yang digunakan yaitu Penilaian Tindakan Kelas dan menggunakan pendekatan kuantitatif. Teknik pengumpulan data Menggunakan observasi, angket dan Dokumentasi
Hasil penelitian pada siklus I dan siklus II. Dimana pada siklus I terdapat motivasi belajar dengan nilai rata-rata kelas pada 46-68 presentasi 59,37% dengan kategori sikap motivasi. Sedangkan pada siklus II terdapat motivasi belajar dengan nilai rata-rata kelas 92-115 presentasi 75% berada di kategori Sangat bermotivasi. Sehingga dapat dilihat pada peningkatan motivasi belajar siswa pada siklus II yang mengalami peningkatan yang signifikasi
ABSTRACT
This study aimed to increase student's learning motivation using a crossword puzzle strategy in science subjects for fourt grade studens of SD Negeri Pannara. The type of research used classroom action research with a quantitave approach. Data collection  teachniques used observation, questionnaires and documentation.
                The result of the resrarch in cycle I and cycle II. Where in the first cycle there was learning motivation with a class average  value of 46-68 with a presentation of 59.37% with a motivational attitude category. While in the second cycle there was learning motivation with an average grade of 92-115, 75% presentation was in the highly motivated category. So that it can be seen in the increase in student learning motivation in cycle II which has a significant increase.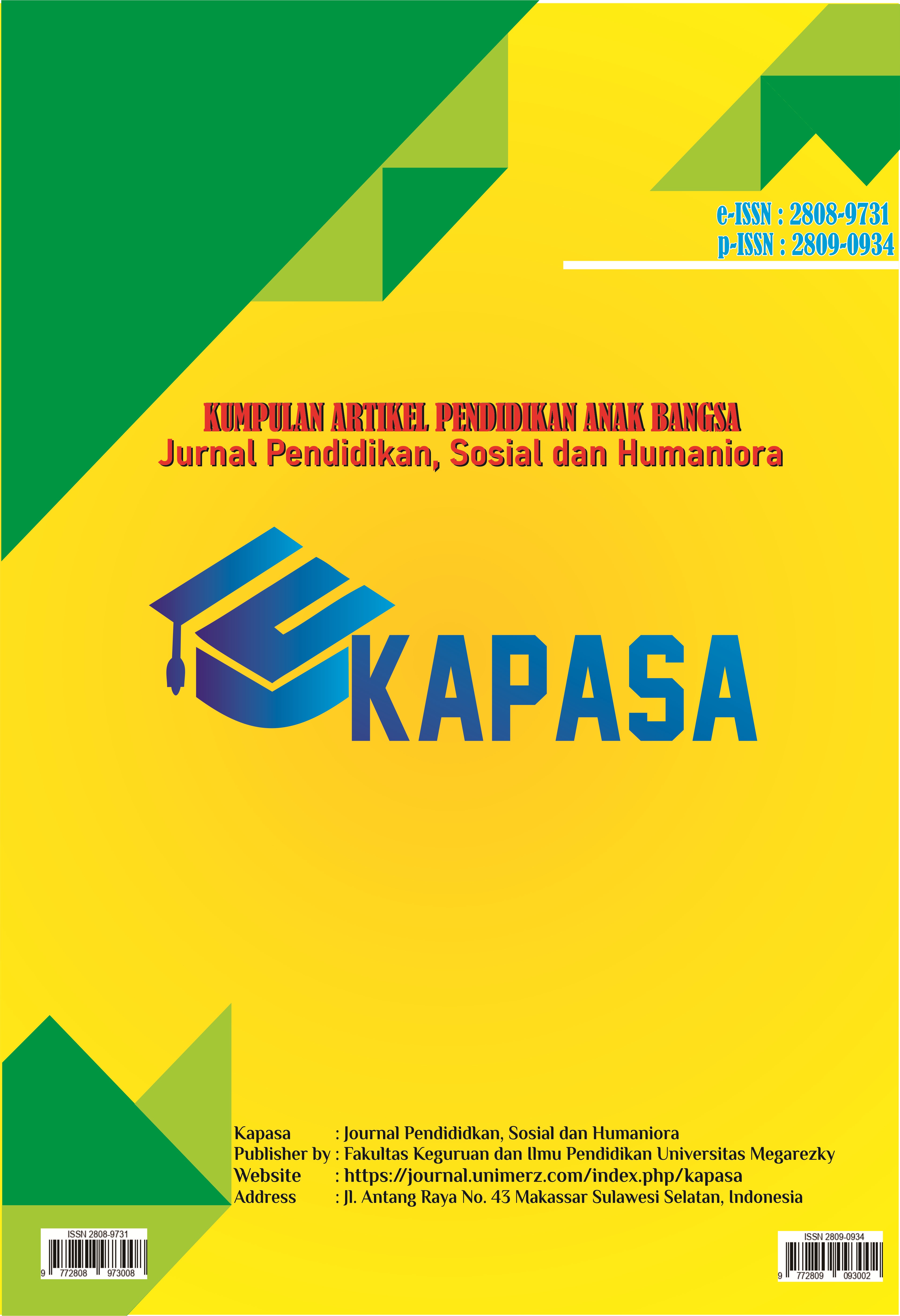 How to Cite
Mutiara Jamal, Cayati, & Bellona Mardhatillah Sabillah. (2023). MENINGKATKAN MOTIVASI BELAJAR IPA MELALUI STRATEGI CROSSWORD PUZZLE PADA SISWA KELAS IV SD NEGERI PANNARA KOTA MAKASSAR. Kumpulan Artikel Pendidikan Anak Bangsa (Kapasa) : Jurnal Pendidikan, Sosial Dan Humaniora, 3(2), 139-151. https://doi.org/10.37289/kapasa.v3i2.359
Copyright (c) 2023 Mutiara Jamal, Cayati, Bellona Mardhatillah Sabillah
This work is licensed under a Creative Commons Attribution-ShareAlike 4.0 International License.