PROFIL TINGKAT KEMAMPUAN PASSING ATAS DALAM PERMAINAN BOLA VOLI PADA SISWA KELAS X IPS 1 SMA NEGERI 19 MAKASSAR
PROFILE OF THE LEVEL OF UPPER PASSING ABILITY IN VOLIBALL GAMES INCLASS X STUENTS OF SMA NEGERI 19 MAKASSAR
Bertolomeus Ebith

Pendidikan Jasmani, FKIP, Universitas Megarezky, Makassar, Indonesia

Suhardianto Suhardianto

Pendidikan Jasmani, FKIP, Universitas Megarezky, Makassar, Indonesia

Muh. Ilham Budi Utama

Pendidikan Jasmani, FKIP, Universitas Megarezky, Makassar, Indonesia
Keywords:
Tingkat kemampuan passing atas, Bola voli, pandemi covid-19
Abstract
ABSTRAK
Penelitian ini bertujuan untuk mengetahui profil tingkat kemampuan passing atas dalam permainan bola voli diera pandemi covid-19 pada siswa kelas X IPS 1 SMA Negeri 19 Makassar. Jenis penelitian ini yaitu penelitian deskriptif kuantitatif. Metode yang digunakan dalam penelitian yaitu metode survey. Teknik pengumpulan data yang digunakan adalah tes dan pengukuran.
Berdasarkan hasil penelitian dapat disimpulkan bahwa tingkat kemampuan passing atas siswa kelas X IPS 1 SMA Negeri 19 Makassar dalam permainan bola voli yaitu sebanyak 6 siswa (25) kategori tinggi, 15 siswa (62,5) menyatakan kategori sedang, dan 3 siswa (12,5) kategori rendah.
This study aims to determine the profil of the level of passing ability of volleyball in The are of the cuvid-19 pandemic in class X students of SMA Negeri 19 Makassar. This type of research is a quanititative descriptive study. The method used in this research is the suvey method. Data collection techniques used are tests and measurements.
Based on the results of the study, it can be concluded that the level of passing ability of students in class X SMA Negeri 19 Makassar in volleyball games is as many as 6 students (25) in high category, 15 students (62.5) stating the medium category, and 3 studennts (12.5)low category.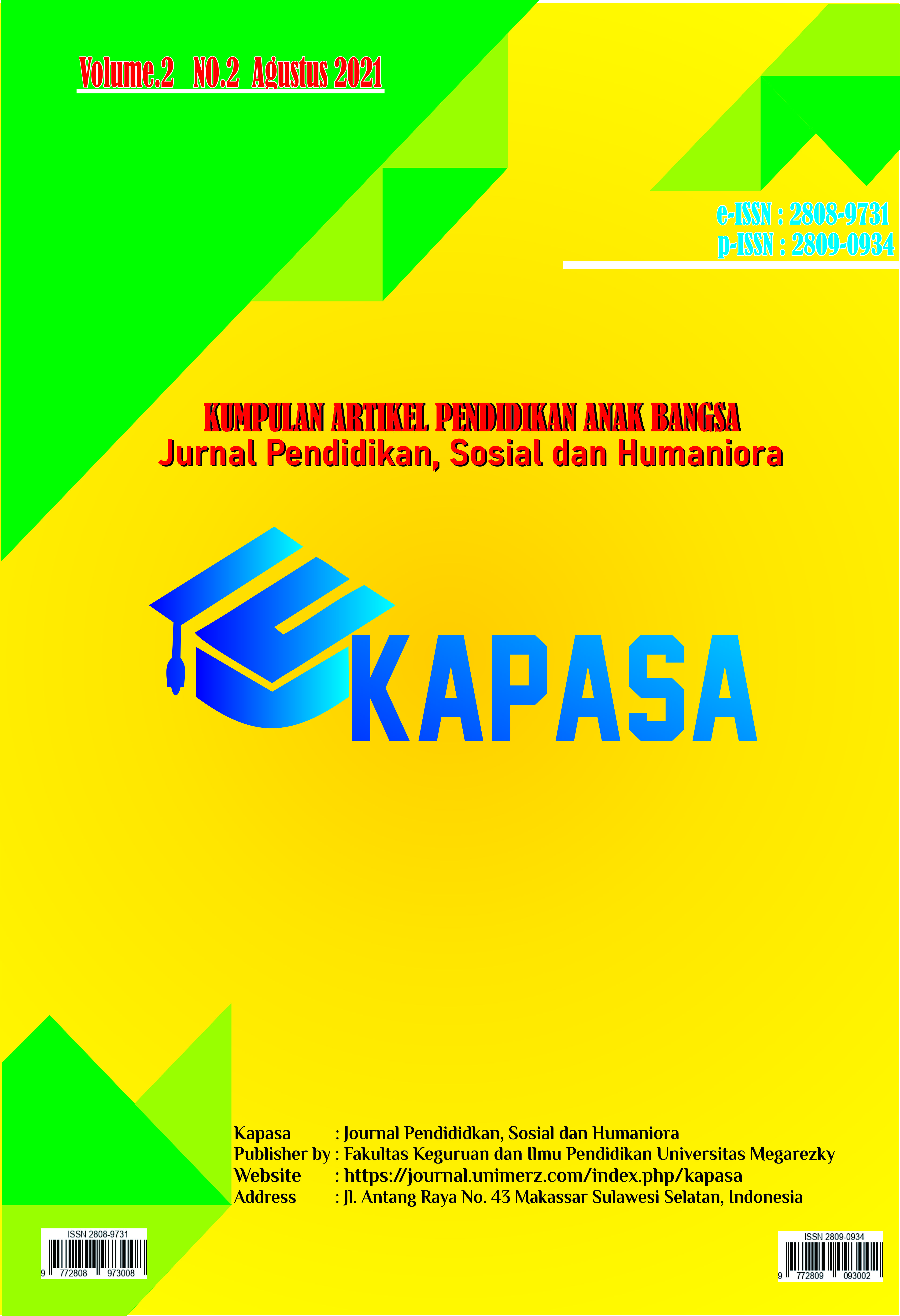 How to Cite
Bertolomeus Ebith, Suhardianto, S., & Muh. Ilham Budi Utama. (2022). PROFIL TINGKAT KEMAMPUAN PASSING ATAS DALAM PERMAINAN BOLA VOLI PADA SISWA KELAS X IPS 1 SMA NEGERI 19 MAKASSAR: PROFILE OF THE LEVEL OF UPPER PASSING ABILITY IN VOLIBALL GAMES INCLASS X STUENTS OF SMA NEGERI 19 MAKASSAR . Kumpulan Artikel Pendidikan Anak Bangsa (Kapasa) : Jurnal Pendidikan, Sosial Dan Humaniora, 2(2), 158-166. https://doi.org/10.37289/kapasa.v2i2.185
Copyright (c) 2022 Bertolomeus Ebith, Suhardianto Suhardianto, Muh. Ilham Budi Utama
This work is licensed under a Creative Commons Attribution 4.0 International License.